Frederick the Great in Electronic Enlightenment
Electronic Enlightenment is the most wide-ranging online collection of edited correspondence of the early modern period, linking people across Europe, the Americas and Asia from the early 17th to the mid-19th century — reconstructing one of the world's great historical 'conversations'. In addition to correspondence, it publishes other historical documents that shed light on the debates of the era and the lives that were central to them. For more information, see http://www.e-enlightenment.com/.
The newly established Frederick the Great project will complement the Digital Voltaire project, which brings together a range of materials associated with this key figure of the 18th century and friend of Frederick's. The Voltaire project includes an ongoing programme creating an updated edition of Voltaire's correspondence, with new letters, new and corrected annotations and high-definition manuscript images. For more information, see Digital Voltaire project.
Some 800 letters by Frederick are already included in EE, mostly drawn from editions of Voltaire and Rousseau. The Frederick the Great project will expand and enrich this with links to further existing editions, three hitherto unpublished letters from the Bodleian Library, visual material from the Ashmolean prints collection, and documentation concerning the response to Frederick in Britain especially during the Seven Years War.
A central aim of the Frederick the Great project is to encourage publication of material central to an understanding of Frederick the Great and his impact. While much of the correspondence is available (see http://friedrich.uni-trier.de/de/static/suche_briefe/), there is no comprehensive edition, parts are incomplete, and it is likely that other libraries hold hitherto unknown letters. EE provides a repository for such material with the capability of reconnecting it with its historical context.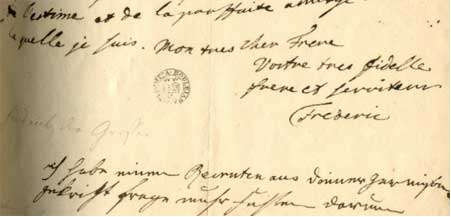 For more information, see Frederick the Great project.