Music at the Court of Frederick the Great
Frederick established a rich musical culture at his court in Berlin and Potsdam. After ascending the throne in 1740, he immediately set in motion lavish plans for an opera house, attracting some of the finest singers of his day. At his beloved Sanssouci palace in Potsdam, inaugurated in 1747, he surrounded himself with an impressive entourage of outstanding musicians. These included various members of the Graun and Benda families, accompanist Carl Philipp Emanuel Bach, and the renowned flautist Johann Joachim Quantz. Flute lessons, which had previously taken place clandestinely, now became part of the daily schedule together with concerts at which Frederick reportedly played several sonatas and concertos every evening.

Flute from the collection of Frederick the Great
SPSG Photo: Wolfgang Pfauder
 
Tercentenary Concert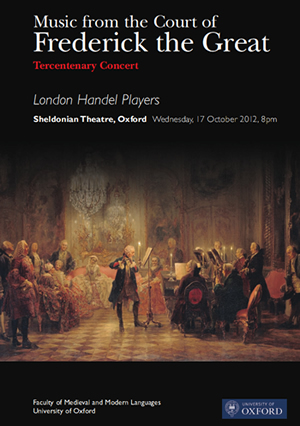 A Tercentenary Concert on 17 October in the Sheldonian Theatre brought the musical culture at court to life in memorable renderings of works by J.S. Bach, J.J. Quantz, F. Benda, C.P.E. Bach and Frederick himself. The London Handel Players are currently the foremost ensemble performing the music from Frederick's on period instruments. Their inspiring concert marked the musical highlight of the international tercentenary year.
View concert programme (pdf)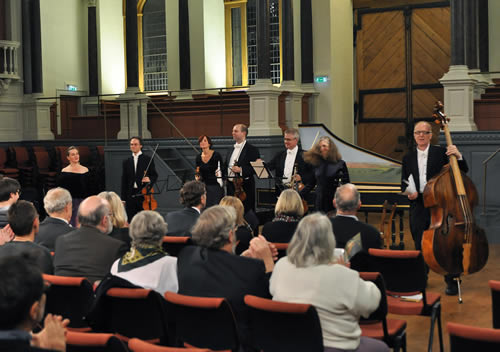 Rachel Brown, Adrian Butterfield, Clare Salaman, Oliver Webber, Peter Collyer, Katherine Sharman, Peter Buckoke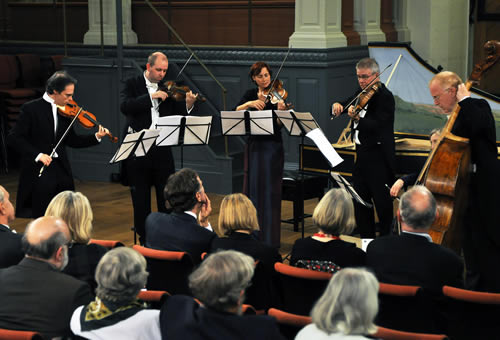 Playing the third movement of Franz Benda's Violin Concerto in D major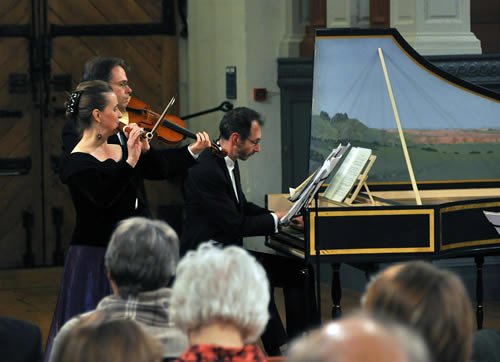 Rachel Brown, Adrian Butterfield and David Gordon playing the Trio Sonata from Johann Sebastian Bach's Musical Offering, dedicated to Frederick the Great